There are so many questions these days and one that many keep asking is what's going to happen to our economy moving forward with this pandemic. Currently everything is on pause, including the economy. In looking at the forecasts from the major financial institutes, Goldman Sachs, JP Morgan and Morgan Stanley, they all agree we are in for a wild ride over the next 90 days (the second quarter of this year) but that we're also in for a wild ride up through the rest of the year (see graph below).
Not only do the major financial institutes agree we are going to have a V-Type recovery but Burns Consulting has actually done an analysis on pandemics. Here is what they had to say, "Historical analysis showed us that pandemics are usually V-shaped, (sharp recessions that recover quickly enough to provide little damage to home prices), and some very cutting-edge search engine analysis by our Information Management team showed the current slowdown is playing out similarly thus far."
Additionally, some of the people who were thinking about selling or buying a house are just delayed… they have been put on pause as well and they are going to come out when this thing ends on the other side. It is predicted that come July, August, September not only will there be the normal sellers and buyers, but also the delayed sellers and buyers from this quarter. So when they hit that play button again, the real estate market will be ready to go.
With over 90% of Americans now under a shelter-in-place order, many experts are warning that the American economy is heading toward a recession, if it's not in one already. What does that mean to the residential real estate market?
So what is a recession?
According to the National Bureau of Economic Research:
"A recession is a significant decline in economic activity spread across the economy, lasting more than a few months, normally visible in real GDP, real income, employment, industrial production, and wholesale-retail sales."
COVID-19 hit the pause button on the American economy in the middle of March. Goldman Sachs, JP Morgan, and Morgan Stanley are all calling for a deep dive in the economy in the second quarter of this year. Though we may not yet be in a recession by the technical definition of the word today, most believe history will show we were in one from April to June.
Does that mean we're headed for another housing crash?
Many fear a recession will mean a repeat of the housing crash that occurred during the Great Recession of 2006-2008. The past, however, shows us that most recessions do not adversely impact home values. Doug Brien, CEO of Mynd Property Management, explains:
"With the exception of two recessions, the Great Recession from 2007-2009, & the Gulf War recession from 1990-1991, no other recessions have impacted the U.S. housing market, according to Freddie Mac Home Price Index data collected from 1975 to 2018."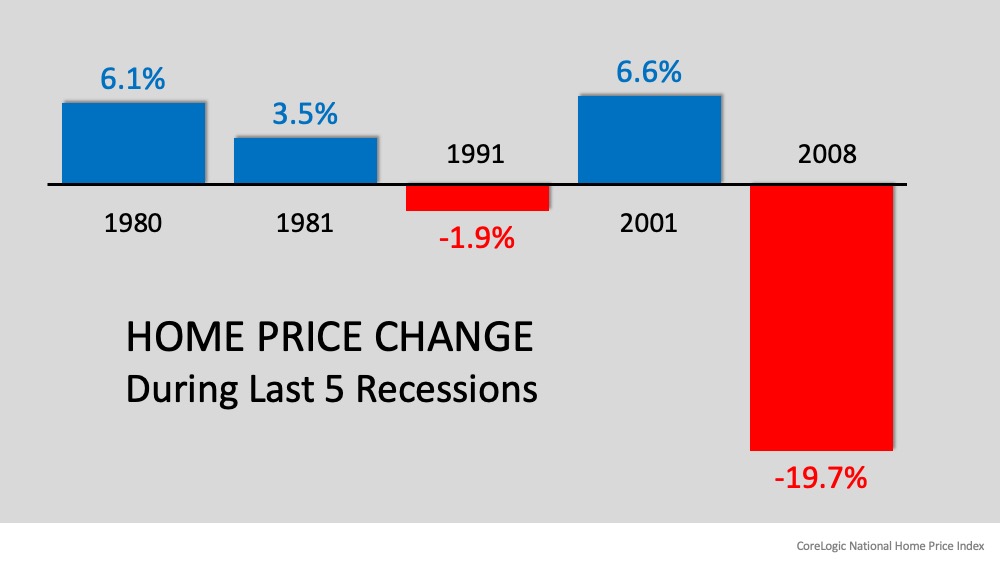 CoreLogic, in a second study of the last five recessions, found the same. Here's a graph of their findings:
What are the experts saying this time?
This is what three economic leaders are saying about the housing connection to this recession:
Robert Dietz, Chief Economist with NAHB
"The housing sector enters this recession underbuilt rather than overbuilt…That means as the economy rebounds – which it will at some stage – housing is set to help lead the way out."
Ali Wolf, Chief Economist with Meyers Research
"Last time housing led the recession…This time it's poised to bring us out. This is the Great Recession for leisure, hospitality, trade and transportation in that this recession will feel as bad as the Great Recession did to housing."
John Burns, founder of John Burns Consulting, also revealed that his firm's research concluded that recessions caused by a pandemic usually do not significantly impact home values:
"Historical analysis showed us that pandemics are usually V-shaped (sharp recessions that recover quickly enough to provide little damage to home prices)."
Bottom Line
If we're not in a recession yet, we're about to be in one. This time, however, housing will be the sector that leads the economic recovery.
Related Articles: